The Cliff Bar & Grill is situated on the south-east coast of Koh Samui in between Chaweng Noi and Lamai, just minutes away from the beautiful shores of Crystal Beach/Silver Beach.
The restaurant is perfectly situated to allowing easy access from Chaweng and Lamai and is sign posted from both directions.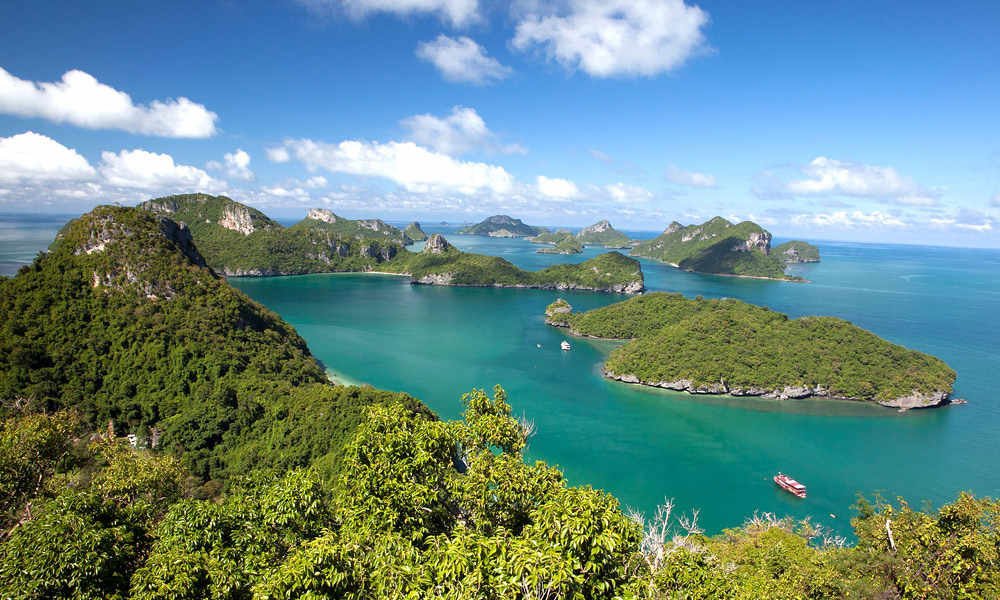 Angthong National Marine Park is an archipelago of 42 islands featuring towering limestone cliffs, thick jungle, white-sand beaches, fertile mangroves, waterfalls and hidden coves and lakes to explore. Visitors to Koh Samui often come here for day trip tours, with activities including kayaking, snorkelling, swimming and scuba diving. For those who wish to stay overnight, there are simple bungalows and camping tents available for rent at the Park Headquarters on Koh Wua Talab.
The fascinating rock formations of Hin Ta and Hin Yai have long been a major attraction for both locals as well as tourists. These particular rocks, Ta (grandpa) and Yai (grandma), take the shape of male and female genitalia so it's no wonder they're a source of mirth for those that visit.
Samui Aquarium & Tiger Zoo
Get a first hand look at a colorful array of water dwellers as well as birds and other exotic wildlife at the Samui Aquarium & Tiger Show. The aquarium features marine life native to the Gulf of Thailand such as nurse and leopard sharks, manta rays, catfish and sea turtles. At the zoo, the main attraction are the Bengal tigers and leopards who put on daily live shows. Open daily, this is an excellent attraction that the whole family can enjoy.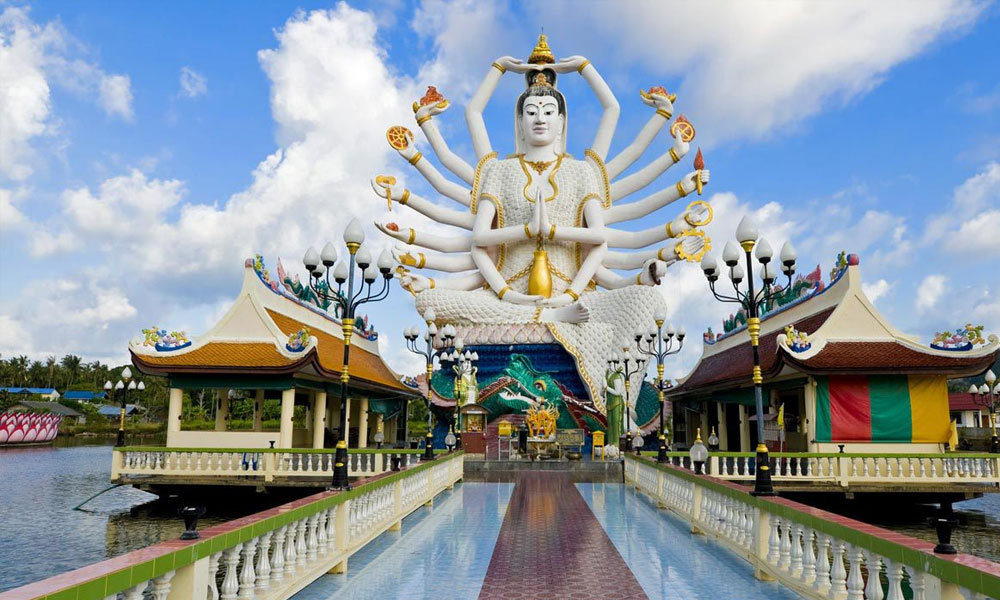 Located near the Big Buddha temple on the north-east coast of Koh Samui is Wat Plai Laem, a temple which features a striking white 18-arm statue of Guanyin, the Goddess of Mercy and Compassion, along with many other fine examples of Buddhist art and architecture.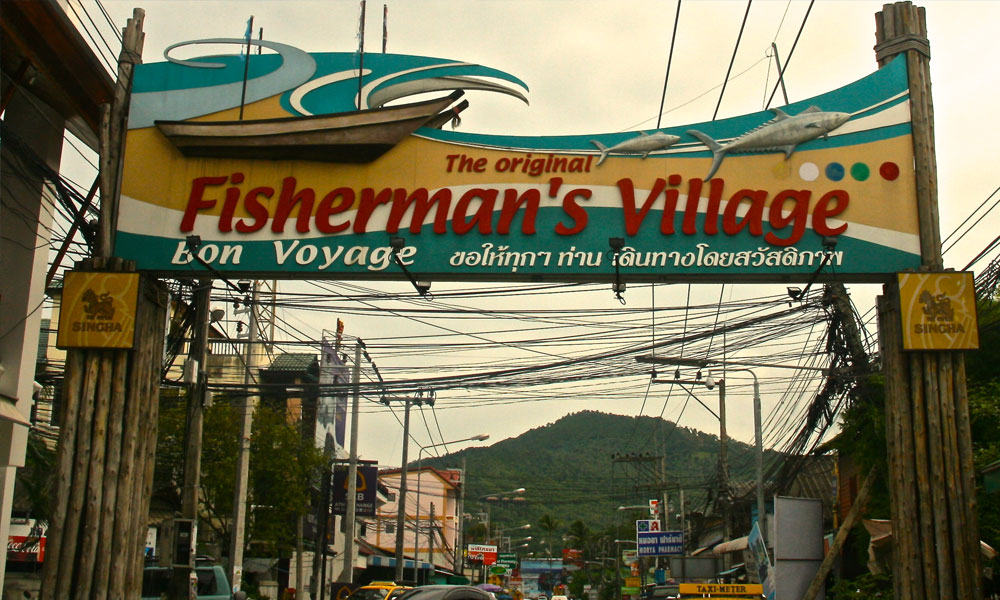 A charming village on the east side of the beach while the new developments are to the west. In contrast to Chaweng there has been a conscious effort to dissuade the more commercial elements of Thai night life from setting up shop and instead aiming for couples and young families.
The beach road retains much of its charm although the new construction took a bit away. Old Chinese shop-houses crowd the narrow street many with sympathetic conversions to modern use as restaurants and cafés and small trendy shops. The beach itself encompasses some 2 km of white sandy shoreline fringed by coconut palms and the calm waters of the bay make this a popular spot for playing or relaxing, rather than swimming, because the water here is often murky, especially around December.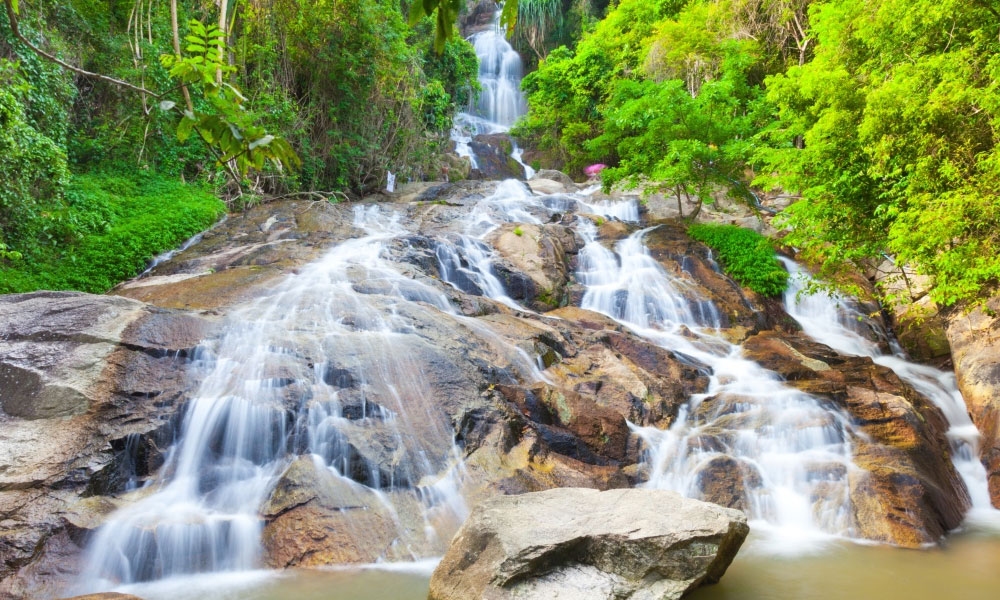 Na Muang Waterfalls, a majestic set of two cascades on Koh Samui, show that the island's beauty is not limited to its beaches. Found inland about 12 kilometres south-east of Nathon Bay, the Na Muang falls are reached by taking a walking path from the entrance to the park.
The first waterfall, Na Muang 1, flows down into a pretty natural pool that provides a cool escape from the heat. About 30 minutes by foot further uphill is the smaller yet equally inviting Na Muang 2.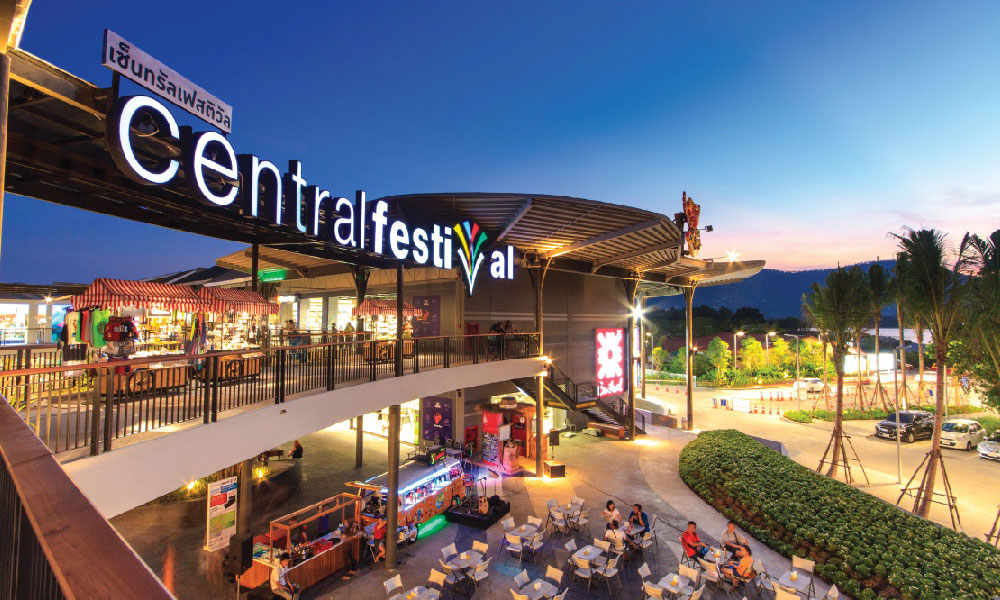 Opened in March 2014 in the centre of Chaweng, Central Festival Samui is the latest shopping haven in the ever-popular resort town. Here, visitors can find a plethora of brand-named boutiques as well as chain restaurants and bars. Supersports (sport equipment and clothing), Central Department Store (clothing and accessories), Power Buy (electronic sound and image equipment) and Tops Market (convenience store) are also in this huge shopping plaza which brings to Samui this famous Thai national flagship outlet.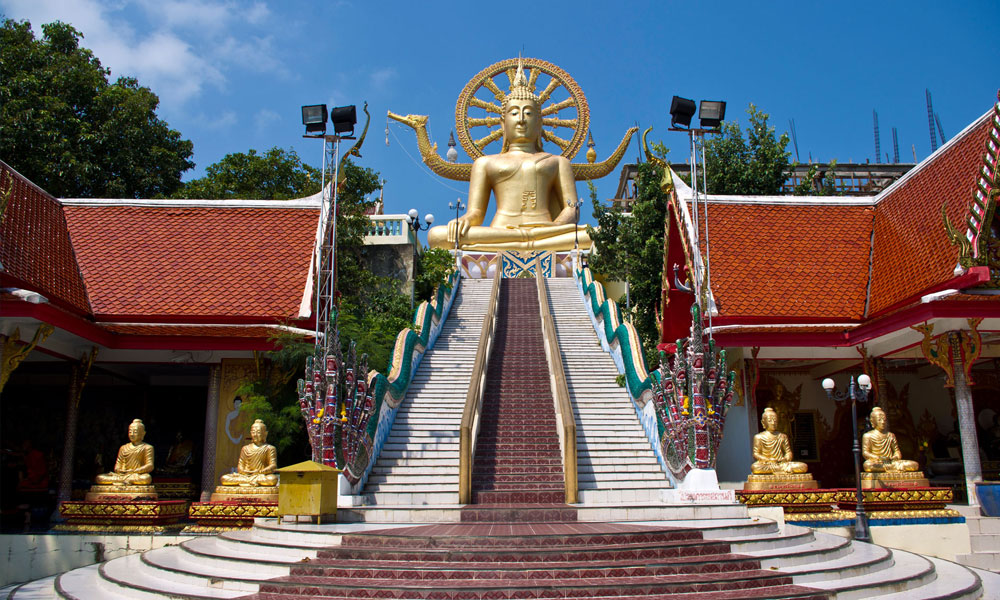 Arguably Samui's most well known landmark, the famous Big Buddha shrine is home to a 12-metre high golden Buddha that can be seen from several kilometres away. Within the temple grounds are many different shrines as well as other smaller Buddha statues. The Big Buddha is situated off the north-eastern coast of Samui on Koh Faan – a small island connected to the island of Samui via a causeway.

Open Tuesday-Sunday  : 12:00 – 22:00
For reservations
Call: +66 (0) 77 448 508
E-mail: [email protected]